We're not just another testing lab; we're innovators, scientists, and problem-solvers. We've designed our laboratory to allow microbiology and material sciences, supported by chemistry, to coexist under one roof, enabling us to provide highly customised solutions for your products. We provide global support for our clients throughout their medical device journey, ensuring compliance with requirements for EU CE Mark, UKCA Mark, FDA, Health Canada, and SFDA
Why We Started Test Labs
Frustrated with the status quo, we knew there had to be a smarter and better way to help medical device manufacturers navigate the intricate landscape of evaluation and validation. We wanted to create a service that was agile and responsive, that could save time and improve patient care.
So, we invested in state-of-the-art testing chambers, and fully equipped microbiology and material science areas, all designed to simulate real-life challenges. This approach has allowed us to tailor each investigation to meet precise regulatory requirements without unnecessary delays or red tape.
What Sets Us Apart?
We started with an ambitious goal. In under a year, we had transformed into a ground-breaking, industry-recognised laboratory, maintaining extraordinarily high standards from day one: within 11 months of our inauguration, we were accredited with ISO 17025. This commitment to excellence was recognised by UKAS, who published a case study about our achievement soon after our accreditation was confirmed.
We have maintained this trajectory with our subsequent certifications by BSI for ISO 9001, ISO 45001, ISO 14001, and ISO/IEC 270011.
We constantly working on increasing our scope and gaining new certifications.
As of August 2023, we are extremely proud to be the only accredited Laboratory in the UK able to conduct vital reprocessing validation for medical devices.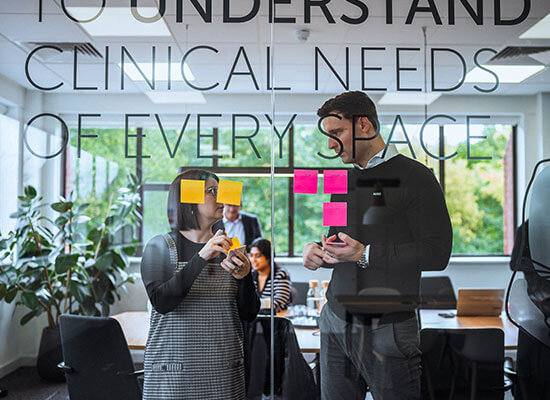 We believe in consultative testing approach and that's what we provide.
Understanding your needs is the cornerstone of the Test Labs experience. Our focus on customer insight ensures that we not only meet but exceed the expectations of regulators.
We offer you control and adaptability with our agile approach.